---
Canadian Hay Ranch • see how our horses grow up • Canadian Horses Live
The head of the herd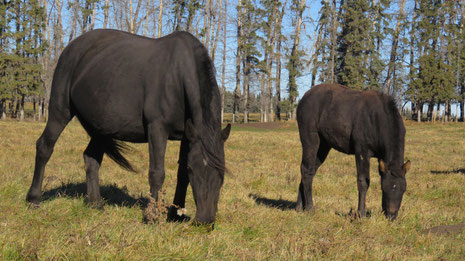 Currently our herd counts 32 head (14 Broodmares, 3 Stallions, 13 young ones, 2 retired horses). 5 separate big pastures close to us make it possible to coordinate the horses. Eros, our oldest stallion lives with his mares over the river (seen in the video above). Before the mares foal, they are brought home to the ranch. Revelstoke lives happily with his herd at the ranch. Our new stallion, Beaumont is at the closest pasture to keep an eye on him, as he is still very young.
The colts are weaned in a separate corral with their friends and maybe one older mare to make the separation as easy as possible. Rich hay is provided. After they are fully weaned, halterbroke and handled, they will go onto the big pasture with all the 2 year olds and up (sale horses). After that the young ones are handled bi-weekly till they will be trained to ride. 
In order to be the head of the herd it's very important that:
The horse has respect of people (especially stallions).
The horse is friendly and willing.
Each year is different and it's always a pleasure to see the horses grow up.
Some pics of our broodmares, always taking well care of their babies