---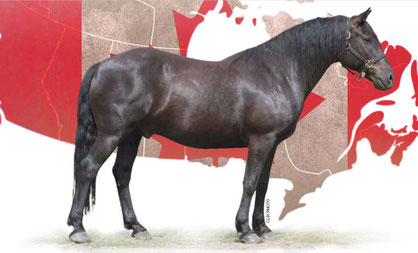 The gritty Canadian Horse exemplifies the nation that created it. So why is it at risk of disappearing?
This is an article from "Horse-Canada.com" about the origin of Canada's National Horse showing two of Earl Blain's horses. Breed Characteristics, history and more - everything you should know about Canadian Horses. For the full version, download the article.
horse-canada-article.pdf
Adobe Acrobat Document
779.1 KB
The Canadian Horse exists since 1665, officially recognized as the national horse by the Canadian Parliament in 2002. Today the breed faces only about 2,500 worldwide and there is a risk of disappearing. By the mid-1800s the horse population counted over 150,000 head. At this point, Canadian Horses were admired for their hardiness and ability to work in the unforgiving Canadian environment. For that reason, they got their nickname "little iron horse". Through the war and increasing popularity of other breeds, the Canadian Horses population yo-yo-ed.
The Canadian Horse is a mix of Andalusian, Arab and Spanish Barb also known as the "little iron horse".
Breed Characteristics
The Canadian Horse is known for his docile nature, high intelligence level and its docile nature. Mostly easy to train and likes to please its master. Canadian Horses love to work, are spirited and courageous. 
Colour: black, bay, occasionally chestnut
Height: 14 - 16 hh
Weight: 900  - 1000 pounds
Build: Well-muscled, well proportioned, sturdy, naturally animated gaits
Other: Thick, wavy tail and mane
Multi-Talented: dressage, hunting, jumping, ranch work, driving, eventing, show jumping, western shows, endurance riding, back country trail, ...